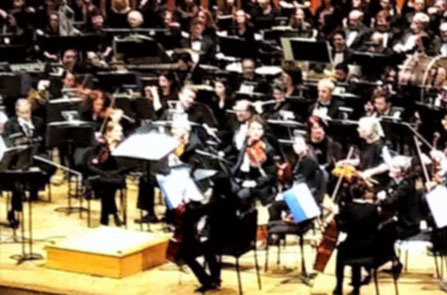 When I was an undergraduate at the University of California, Davis, I tried my tentative composition skills at writing an orchestral piece before I really knew what in the world I was doing. I remember composing a few measures of tentative "orchestral work" and showing it to a professor who said the piece was interesting but would probably be over before it had begun! But that wasn't the only problem. The other challenge was fairly basic: who in the world would play it?
By the time I became a graduate student at California State University, Northridge, I learned a trick which served me well: find fellow students who would like to play a new piece and then decide the instrumentation based on those willing musicians.
So, the first large scale piece I had performed was essentially the first working draft of my Three Laments on the Great War for vocal soloists and chamber orchestra with texts by First World War poets Wilfred Owen and Ivor Gurney. I had found three willing vocalists: a mezzo-soprano, tenor and baritone/bass for the vocalists. The mezzo-soprano was a friend of mine and was enthusiastic about the piece, and she helped recruit the two other vocalists, and in some sense she was akin to a co-producer.
The instrumentation for the orchestra was rather odd, but based on who was available and willing (keyword willing): small string section consisting of five violinists (three firsts, two seconds), one violist, two cellos and one double-bass, and a small winds/brass section consisting of one clarinet, one bassoon, one horn, one trumpet, and one trombone. I was even able to get a timpanist.
The piece was originally performed at the music department's New Directions concert in the late 1990's, a concert produced every semester consisting of works by student composers. I was the hapless conductor. (I even shook the hand of the concert-mistress!) Based on audience reaction, I had more or less pulled it off. It was the first time I had written and performed a relatively large- scale work which at the time clocked in at about 10 minutes. Later I would expand the piece and its instrumentation (pairs of woodwinds, four brass, timpani, and strings) which was then recorded for a CD compilation of my orchestral works.
So as a student, either at the undergraduate or graduate level, I always advocate finding players and writing pieces for those players. Writing huge-scale works at the undergraduate level, unless you have access to a large-scale ensemble has the downside of not being performed. Student composers should write and have performed as many of their works as humanly possible. And also, remember that sometimes less is more.